Welcome!
On behalf of the staff, pupils and Governors of St Patrick's Primary School, Drumgreenagh I would like to welcome you to our school website.
Our school, St Patrick's P.S., was established in 1998 following the amalgamation of two long-established Drumgath Parish schools - St. Colman's Primary, Barnmeen and Lurgancahone Primary School- and since then our school has flourished and developed an excellent reputation.
We are immensely proud of our warm, loving, welcoming, inclusive, child-centred environment. We take pride in our strong links to our parents, our parish and the wider community. As a Catholic School we seek to foster and promote Christian spirituality and maintain the highest Christian values. Working in partnership with parents/ carers, we aim to support the development of each child's whole personality and talents. We aim to provide a wide range of experiences for our pupils so that they develop the skills, knowledge, values and attitudes that will enable them to develop academically, physically, socially and emotionally.
I hope you find our website interesting and informative. It does, of course, only provide an snapshot of life in our school so if you require further information or you would like to visit the school, please do not hesitate to contact me.

Mrs Nessa Magee
Principal
Latest Photographs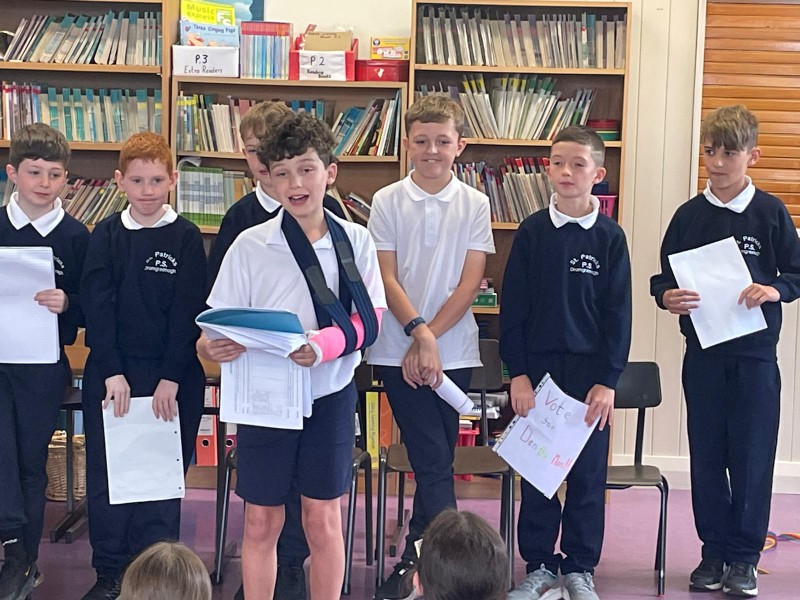 Upcoming Events...
Monday, 25th September 2023
Afterschool Week 3
P6/7 Swimming:
Tuesday, 26th September 2023
P4/5 Ipad Workshops (Week 1 )
GAA Coaching
EA Music Tuition: Strings
Wednesday, 27th September 2023
P1-7 Spanish
EA Music Tuition: Brass
KS2: Singing Exam Class
Thursday, 28th September 2023
P3 Shared Education Trip ( TheWhyte Estate)
Friday, 29th September 2023
Spots and Stripes Day
Monday, 2nd October 2023
School Closed (School Development Day)
Tuesday, 3rd October 2023
GAA Coaching
P1/2 Curriculum Information Meeting: 7pm
P4/5 Ipad Workshops (Week 2)
EA Music Tuition: Strings
P3 Curriculum Information Meeting: 7.30pm
Wednesday, 4th October 2023
P1-7 Spanish
EA Music Tuition: Brass
KS2: Singing Exam Class
Thursday, 5th October 2023
P4/5 Curriculum Information Meeting: 7pm
P4/5 Curriculum Information Meeting: 7pm
St Patrick's Primary School, Longstone Hill, Rathfriland, Newry BT34 5BT | Phone: (028) 40 630 587